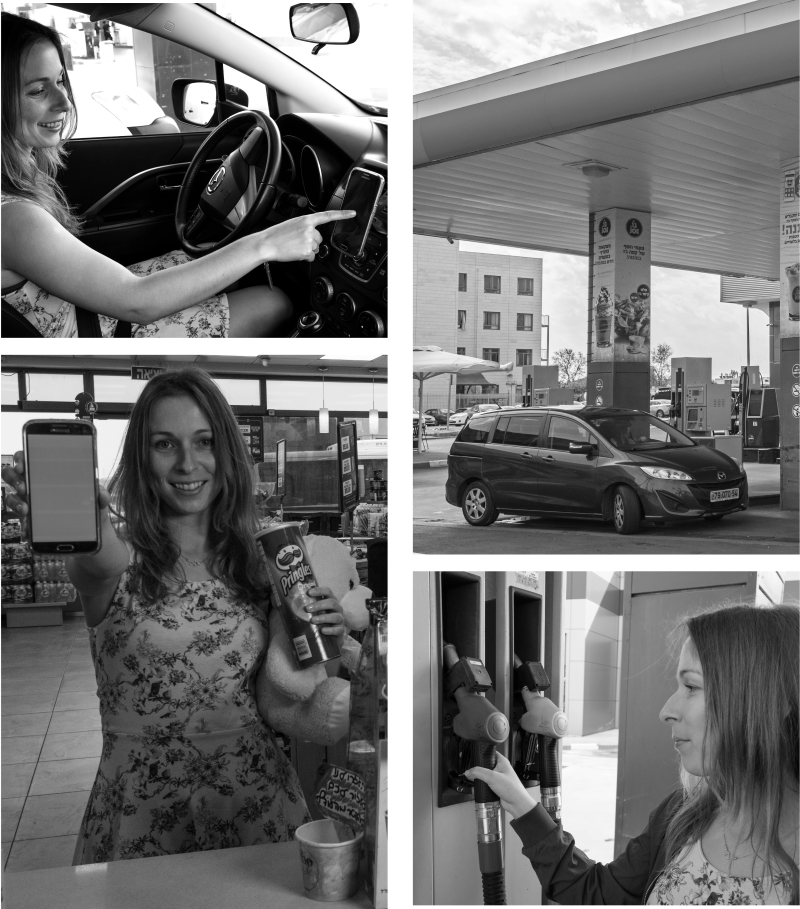 Over the past 5 years, TankU has been developing and patenting cutting-edge technology to identify objects and processes in gas stations, using both smartphones and existing CCTV cameras. Our advanced software can be broken down into three faces: refueling solutions, personalized advertising, and managerial analytics. 
The first deployment of our technology is a secure, one-tap mobile interface for fuel and products. Our software provides users with one-tap or voice-command refueling all while increasing security. TankU is the most secure mobile payment solution for refueling; before a pump is authorized to dispense fuel, TankU's servers will confirm the vehicle, plate number, pump, driver, credit card, and geographic location using existing CCTV cameras. This allows for the elimination of outdoor payment terminals. All of these features lead to a 30% decrease in fueling time, increasing station efficiency. While fueling, our system monitors and documents the entire process, providing alerts for exceptions and even taking preventative action such as stopping refueling or notifying appropriate personnel during an emergency. For fleets, we also provide odometer readings, consumption reports, scheduled maintenance alerts, and exception reports for the fleet manager. These work to eliminate fleet losses to fraud, which currently account for 5-20% of fleet purchases. 
In addition to our refueling solutions, our software increases station profitability with personalized consumer marketing and managerial analytics solutions. While refueling, personalized promotions are sent to each customer's smartphone where they can make purchases through the app, with optional delivery to their vehicles. These promotions tie fuel purchases with food/drink purchases, and build stronger customer loyalty. Through TankU's smart solutions, each c-store can expect to see a 14% increase in sales. 
Finally, by recording and mapping the journey customers and vehicles take in the station, we provide managers with heatmaps of their stations. These maps offer managers easy to digest insights into consumers movements, and are used to optimize prices and layouts. The system interacts with managers by suggesting actions to be taken by the station manager to improve station performance and user experience.
These three faces work hand in hand, integrating fuel purchases with c-store purchases, optimizing station traffic, and increasing station profits by $20-40K each year.
TankU has put together a team of experts who are uniquely placed to make a significant global change to the industry. Our business team includes senior representatives from global oil companies and experts in gas station and convenience store solutions. Our technical team has specialists in algorithms and image processing as well as technical back-end servers and mobile applications, including UX. 
We are continually expanding our team to meet our clients' milestones and push forward our business plan. Our working system was launched in 2017 and we are expanding our deployment now across 2 countries.
Our working system was launched in 2017 and we have completed successful pilots with large oil companies.
The TankU solution provides true self-service, without the need for expensive Outdoor Payment Terminals, cards, tags or any devices installed on the vehicle or pump. For fleet vehicles we verify that the fuel goes to the authorized vehicle with the authorized driver, while we capture odometer readings and provide consumption reports, schedule maintenance alerts and exception reports for the fleet manager. This reduces fleet costs and encourages them to remain loyal to the oil company providing TankU's service.
In addition, our c-store promotional system increases the number of drivers entering gas station convenience stores and making purchases.
Becoming the leader for on-the-road mobile payments of both fleets and private motorists.